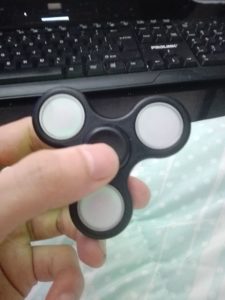 Have you heard of fidget spinners?  If not, you might be surprised to hear then that they top the lists of the best-selling toys on Amazon UK.  They are the latest craze amongst school children and are being hailed as a learning tool to help kids suffering from inattentive states of mind.
Today I was interviewed on Sky News about the latest craze of fidget spinners and the potential benefits for kids using the devices. See the link to the interview here http://news.sky.com/video/fidget-spinners-the-issues-debated-10881551 The central issue, it seems to me,  is whether these devices can be effective stress management tools in addition to being an aid to learning for kids suffering with the negative aspects of attention deficit hyperactivity disorder (ADHD), or whether they are distracting and could cause problematical behaviour in themselves.
The marketers claim that the devices can be an aid to learning for those suffering from ADHD in the classroom as well as potentially relieving the symptoms of ADHD itself, autism and even post-traumatic stress disorder (PTSD). These are big claims.
However, there are no clinical research findings to support these views, at this stage of their usage. At best what could be said is that there might be anecdotal evidence to suggest that these devices may help inattentive kids to concentrate on their learning. However, it would be inaccurate to suggest that these devices support the learning capacity of such kids, particularly those suffering with symptoms associated with ADHD.
These spinner devices are visually distracting which could be their major drawback. Some of the devices have lights on them which could make them further distracting in addition to the whirr sounds. This could potentially act as a mitigating factor against their usefulness as a learning tool. Other fidget devices, which don't have the visual distractions, could possibly be better gadgets as an aid to learning for kids suffering from inattention. Indeed, good old stress balls (with no visual distractions) would be more effective as an aid to learning for inattentive kids.
Riding a stationary bike whist reading would offer the potential for small and non-distracting motor movements. Fidget Spinners,however, don't require gross body movement, which is needed for increasing the activity of the frontal and prefrontal parts of the brain that are responsible for sustaining attention.
Problem behaviour, as with any dependence on any gadget, is when negative consequences begin to occur in other aspects of the user's life or when they act as barriers to communication.  Addiction is the search for emotional satisfaction. It is worth asking what happens to the emotional regulation and mood when the device is not available. The key is that kids are taught how to use these devices appropriately so that they do not prove to be distracting to their learning but can be used in a constructive way.
If you are a parent and worried about your child potentially having ADHD it could be worth a consultation with your GP who will be able to direct you to the appropriate support services. See the NICE guidelines for more information on support for ADHD.
See also